HISTORIC BOXING NEWSPAPERS
You will enjoy reading these historic
newspapers and articles. Some of the
greatest boxing events from the 1800's
through modern history.

THE CHARLOTTE OBSERVER
CHARLOTTE, N.C.
SATURDAY MORNING
JULY 5, 1919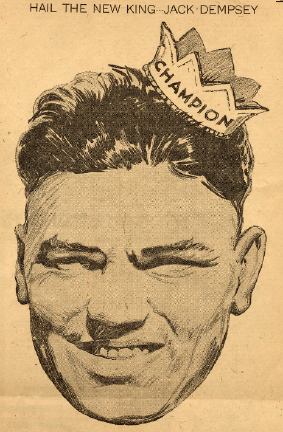 _ Toledo, Ohio, July 4. - Jack Dempsey, the
new champion, will remain in Toledo until at
least Sunday night, his manager, Jack Kearns,
announced tonight.
_ "We have a dozen theatrical offers," Kearns
said, "and Jack will probably open in
vaudeville next week."
_ Dempsey's first request after winning the
title, was that a message be sent his mother,
Mrs. Cecelia Dempsey, in Salt Lake City.
"Your boy made good. Knocked the big
fellow out in three rounds," the telegram
read.
_ "Willard is a game fellow," Dempsey
declared. "I never handed out more
punishment to anyone and have him
come right back for more as Willard did
today."
_ Dempsey made a hurried change to his
civilian clothes after his victory and was
taken in an automobile to his headquarters
in a downtown hotel. Hundreds of admirers
greeted him as he alighted from his car at the
hotel and the lobby rang with Dempsey cheers
for more than 15 min-
utes.
_ The crowd was so great at Dempsey's hotel
the new champion was forced to make an exit
through the back door in order to reach the
union station, where he went to greet a number
of friends who had traveled from Philadelphia
on a special train. Dempsey received another
ovation at the railway station and had to again
make an escape in order to keep the crowd
from tying up traffic.
JACK'S MOTHER HAPPY
WHEN GOOD NEWS CAME
_ Salt Lake City, Utah, July 4. -
Mrs. Celia Dempsey, mother of
the new champion, shouted with
joy when the flash reached her
that her son had won the cham-
pionship.
_ "I am overjoyed," she said.
Historic boxing newspapers and articles.