HISTORIC BOXING NEWSPAPERS
You will enjoy reading these historic
newspapers and articles. Some of the
greatest boxing events from the 1800's
through modern history.

THE ANACONDA - MONTANA
APRIL 6, 1915

Defeat of Black Champion Jack Johnson
by Jess Willard, the "Great White Hope."




THE TWENTY-SIXTH ROUND
---
_ Johnson rose slowly from his chair and Willard met him more than two-thirds of the way across the ring. Willard stabbed a terrific left into the negro's face, sending his head bobbing. before the champion could recover his position, Willard swung a smashing right which landed full on Johnson's stomach. Johnson was flung against the ropes by the force of the blow and he clinched on the rebound.
_ The cowboy tried to tear loose, but the black man held grimly with eyes closed and legs shaking. Just before the referee broke them, Johnson looked over Willard's shoulder toward the box where his wife had been, his eyes showing a dazed, tired, puzzled expression.
_ As soon as Welsh had broken the clinch, Jess rushed again, forcing the negro into Willard's corner, where the finish came. Johnson was slow in guarding and his strong, youthful opponent hooked a swinging left to the body. The fading champion's legs quivered and again the towering giant feinted for the body, Johnson dropped his guard and Willard won the title with a quick hard swing to the exact point of the jaw.
_ The negro's knees folded up under him and he sank slowly to the floor and rolled over on his back, partly under the ropes.
_ Welsh waved Willard back and began to count. Up and down swung the referee's hand, but Johnson never moved. His eyes were glassy, only the whites being visible.
_ At the count of "10," Welsh turned and held up Willard's hand and a new champion replaced Johnson, who was still stretched on the floor of the ring. Time of round, 1 minute 26 seconds.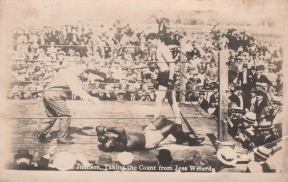 Historic Postcard of the Jess Willard and
Jack Johnson Heavyweight Title Fight
Historic boxing newspapers and articles.