DIRECTIONS:
From Highway 111 at Mecca
Go east on 66th Ave. about 5 miles
Turn left on Painted Canyon Road
About 4 1/2 miles to Ladder Canyon
From I-10/ Exit 168
(5 miles west of Chiriaco Summit)
Take Box Canyon Road about 15 miles.
Turn right on Painted Canyon Road.
About 4 1/2 miles to Ladder Canyon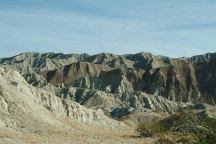 Painted Canyon
Ladder Canyon Trailhead is at the end
Painted Canyon Road. There is parking
and a turnaround, but beware of loose
sand areas.
From the parking area, there is a marker
pointing towards the trailhead. Walk about
1/4 mile up the main canyon and there is
another marker that points towards Ladder
Canyon Trialhead. It looks like a rock slide
and hard to be sure this is an actual trail.
Stay to the right of the rocks and working
your way around and through the boulders,
the first ladder is only a short distance...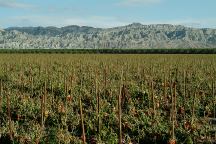 Field of Red Bell Peppers on 66th Ave.
Painted Canyon in background;
DISTANCES FROM MECCA
Brawley 63 miles
Indio 13 miles
FOR MORE INFORMATION:
Bureau of Land Management
Palm Springs - South Coast Resource Area
690 West Garnet Avenue
Palm Springs, CA 92258
760-251-4800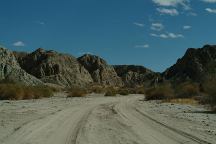 Box Canyon Camp Area
BOX CANYON
Box Canyon Road is east from Painted Canyon.
Instead of turning on Painted Canyon Road,
continue on Box Canyon Road.
PAINTED CANYON
Camp areas near Ladder Canyon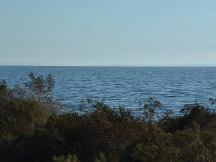 Salton Sea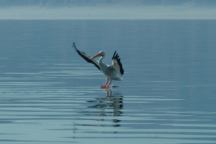 Bird landing on Salton Sea
Salton Sea was created in 1905 - 1906
Original Size: 45 miles by 17 miles wide
Original Surface Level: 195' below sea level
Today: 35 miles by 15 miles wide
Surface Area: 360 square miles
Surface Elevation: 228' below sea level
110 miles of shoreline
Average Depth: Less than 20'
Deepest Area: 50'
Summer temp. is 92 degrees
Winter temp. is 55 degrees
SALTON SEA
Tourist Information and Travel Guide
For more information about the Salton
Sea and surrounding area.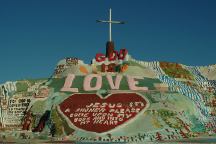 Salvation Mountain
SALVATION MOUNTAIN
Leonard Knight's Salvation Mountain
Take Hwy.111 south to Niland, CA
Cheapest gas in Arizona.
I-10 / Exit#1 at the Flying-J in at Ehrenberg
(On this day was about 40¢ less than California)
Lowest priced gas in SE California in Coachella
Food4Less had a 5 cent discount if you buy
$25 in groceries. (Jan. 2007)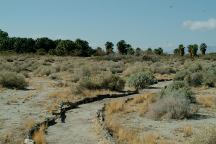 Dos Palmas Preserve
JOSHUA TREE NATIONAL PARK
Joshua Tree National Park is north from
Box Canyon. From Box Canyon Road,
continue north on Cottonwood Road.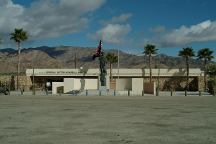 General Patton Memorial Museum
Interstate 10/ Exit 173 at Chiriaco Summit
N 33°39.697
W 115°43.330


General Patton Statue
Flag is proudly waving in background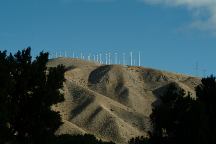 Wind turbines along I-10
"THE WIND FARM"
Photo from Whitewater Rest Area on I-10
West from Palm Springs and Cathedral City.
PHOTO HERE
Snow capped mountains from Whitewater
Rest Area in January 2006