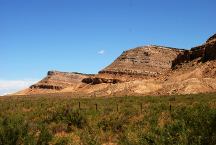 Hwy 430 / MP 25
View looking north...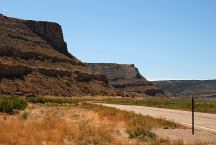 Hwy 430 MP 25
View looking south...
DIRECTIONS:
From Baggs, WY
Take Hwy 13 south about 4 miles
At milepost 126 turn west on Road 4
About 38 miles paved then gravel and dirt
From Craig, CO
Hwy.40 west at Junction of Hwy.13
Take County Road 7 towards Great Divide
(13 miles paved then maintained gravel surface)
There are some dispersed camps on Road 7
Road 4 is xx miles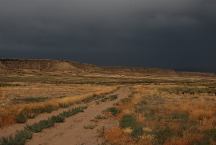 Stormy Weather Conditions
(Spur road to the corral turned to sticky mud)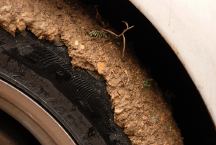 Sticky mud built up on the tires after driving about a 100'
Found a good parking site and within a couple hours
the sun came out and the road dried enough to continue
the journey.
ROAD CONDITIONS:
About 38 miles paved surface
Gravel and dirt surfaces
Limited parking and not recommended for RV's
Best avoided in bad weather conditions.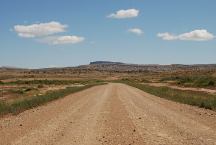 Wyoming Road 24 Looking East
Junction of Hwy 430 between milepost 35 - 36
LATITUDE: N 41°15.577
LONGITUDE: W 108°49.958
Elevation 6900'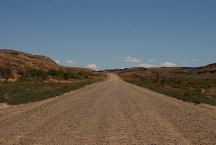 Wyoming Road 26 Looking East
Junction of Hwy 430 between milepost 18 - 19
LATITUDE: N 41°27.459
LONGITUDE: W 108°56.498
Elevation 6600'