HISTORIC BOXING NEWSPAPERS
You will enjoy reading these historic
newspapers and articles. Some of the
greatest boxing events from the 1800's
through modern history.

THE FRANKLIN EVENING STAR
FRIDAY, SEPTEMBER 23, 1927
GENE TUNNEY vs JACK DEMPSEY

Hail to the champion!
The judges here have decided Gene
Tunney outpointed Mr. Dempsey and
lifting Tunney's right hand, are giv-
ing him their verdict. The decision
means the former marine remains
on Fistiania's throne. Dempsey made
a game fight to come back, but like
all other former champions failed
in the attempt.

Round seven almost saw
the end of the great classic in
Soldier's Field. Dempsey with a
right and left to the jaw, sent the
"fighting marine" down on the
boards. The champion took the
count of nine before he rose to his
feet again.

Tunney (in white trunks)
staged a great comeback in
the ninth. Gene took the offen-
sive as soon as the starting gong
rang. With a series of stinging
lefts to the face, he soon had Demp-
sey wobbly. Jack by now was bleed-
ing considerably.

RETAINS HEAVYWEIGHT
CROWN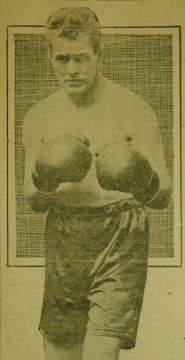 JAMES JOSEPH TUNNEY
_ SOLDIER FIELD, CHICAGO, Sept. 23 - James Joseph Tunney, ex-truck driver and ex-marine, scientifically piloted his flashing leather groomed fists through ten slashing laps of speed here last night in defense of his world's heavyweight championship.
_ William Harrison Dempsey, his challenging opponent, from whom Gene won his crown a year ago at Philadelphia was a thoroughly beaten contender. The decision of the judges was a mere formality. In the seventh round Jack came near to regaining his prestige. A right swing flush to the jaw caught Tunney and he was sent down for the full count of nine. He was smart enough, however, to stave off defeat as a result of the dexterity of his legs. Try as he would Dempsey could not put the finishing touches to the champ and was himself weary when the session ended.
_ The remarkable physical fitness of Tunney stood him in good stead as he came back like a real champion and smashed Dempsey to the floor for a clean knockdown with an overhand right to the chin. Again in the ninth he peppered Jack at will with left and rights to the face which brought streams of blood from Dempsey's nose and both eyes. He appeared to have practically no defense against the lightning lefts of Tunney.
DEMPSEY KNOCKED DOWN IN EIGHTH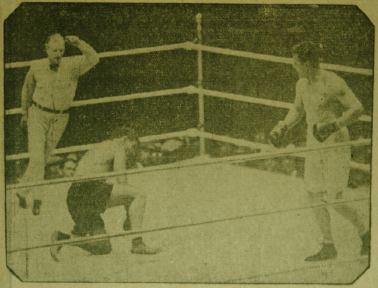 There were a few times in the course of the great battle in Chicago Thursday night, when it looked as if the career of Jack Dempsey might end in a knockout. Never did it look more that way than in the eighth round, when Dempsey went down and arose only to run into a hurricane of beating fists that nearly ended the fight then and there. This photo shows him arising with Tunney poised ready to resume the attack and Referee Dave Barry raising his hand for the count.
HE ALMOST RECAPTURED
THE CROWN
Never in the history of the pugilistic world has a former holder of the heavyweight crown come as near to regaining the crown and failed as did Jack Dempsey in the seventh round of the title bout in Chicago, Thursday night. He had floored Tunney but failed to get in a neutral corner immediately according to the rules so the count of ten was delayed for four or five seconds. According to the experts, this period of time gave Tunney the respite that he needed to clear his foggy brain and regain the strength in his almost paralyzed legs. When Gene regained his feet, Dempsey failed to follow up the advantage he had gained and by the start of the eighth round, Tunney had entirely recovered from the blow that had come so close to ending the championship bout.
The most characteristic scene of the whole fight, Thursday night, is shown in this picture. Time after time it was "Dempsey bores in, driving to Tunney's body - Tunney gives his one, two to Dempsey's head." This remarkable photograph shows just how they fought.
The Manassa Mauler drove constantly at Tunney's body, coloring it up considerably. This picture shows how he made his offensive. And while Jack was pounding away at the man who had never been floored, Tunney himself was hammering at Dempsey's jaw and his eye.
KELSEY TELLS WHAT
MANNER OF MAN GENE
TUNNEY REALLY IS

---
Likes to Read and Enjoys
High Society - Wiggins
a Favorite

---
(By Clack H Kelsey)
U..P. Staff Correspondent
CHICAGO, Sept. 24
_ Gene Tunney, the man who rained
1,000 blows on Jack Dempsey at
$1,000 a blow, Thursday night, is
just the sort of specimen that writ-
ers of yellow-backed thrillers for
boys would make a hero of.
_ The champion and what a champ-
pion he proved to be Thursday
night - actually despises crowds and
actually likes "kids." He doesn't
like to be known as a prize fight-
er," but he is proud of being an ef-
ficient "boxer."
_ He relishes society, but abhors
being mentioned as a social climb-
er. He is flattered by being called
intellectual, but is pained when he
is labelled a bookworm.
_ Tunney is not "girl shy," he says,
but simply "is not interested in the
sort of girl who would be interest-
ed in a prize fighter."
_ While here as well as in New
York he has been lionized by many
persons whose names rank in high
society's blue books.
_ His chum, Eddie Eagan, a Yale
man and Rhodes scholar, is much
the same sort as the champion.

__ In Chicago Society

_ Introduced in Chicago society,
through Eagan and youthful Gor-
don Kelly - a millionaire's son who
took a liking to him - the champion
immediately became a social prod-
igy. He played golf with some of
the most popular debutantes, and
was dined and feted by many per-
sons in Lake Forest - Chicago's most
fashionable suburb.
_ At the same time he maintained
his contacts with his not so stylish
sparring partners, and many "wise-
cracking" contests were held be-
tween him and "Chuck" Wiggins, of
Indianapolis. Wiggins, whom he
called "Charles," was the Tunney
training camp comedian, and Tun-
ney enjoyed exchanging repartee
with him.
_ For three weeks before the Demp-
sey fight, Tunney tried to read
"Hunk Bondage," but each at-
tempt was blocked by social or bus-
iness obligations.
_ The two days before the fight,
when he was not busy, he nearly
finished the book, and one desire
after the fight was to "see how it
ended."

_ _ Stays With Friends

_ Although besought by many of
his friends of the "gold coast" -
Chicago's inner circle of society -
to join them in a party at the
Racquet club after the fight, Tun-
ney went with his trainers and old
friends to the roof bungalow of a
Chicago hotel, to hold a jubilee with
the men who helped him win and
retain his title.
_ And late Friday he started for
Cleveland, where he again will hob-
nob with millionaires, the Hanna
brothers, sons of the late U.S. Sen-
ator Mark Hanna.
_ In the dressing room, Tunney
complimented his opponent, saying
that Dempsey "fought a typical
Dempsey battle, but that this year
he was very, very much better than
he was a year ago."
_ The champion did not bear a
mark of the contest.
THE FRANKLIN EVENING STAR
TUESDAY, SEPTEMBER 20, 1927
THE GREATEST SHOW ON EARTH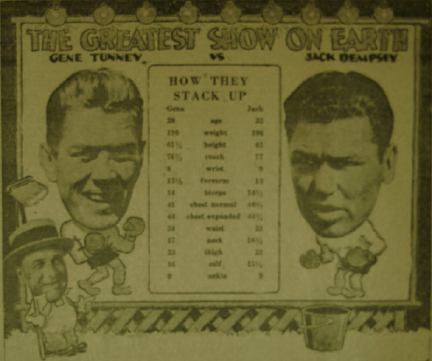 Measurements! Here they are for
the two principals in the biggest
show on earth as it will be staged
by genial Tex Rickard at Soldiers'
Field in Chicago, Thursday night.
On this side, says Tex, is Gene
Tunney, the champion; on the
other side, is Jack Dempsey, the
challenger and ex-champion. Here,
ladies and gentlemen, are the figures.
Compare 'em yourself and see how
the fighters stack up!

THE FRANKLIN EVENING STAR
WEDNESDAY, SEPTEMBER 21, 1927

FIGHT RETURNS AT
BICE ELECTRIC SHOP

---
Tunney-Dempsey Title Tilt is
Carded For Thursday
Night

---
_ Radio returns on the Tunney-
Dempsey championship boxing
match which will be staged at Sol-
dier's Field, Chicago, Thursday
night, will be received at the Bice
Electric Shop, and a large crowd of
fight fans are expected to be on
hand. The bout is scheduled to
start at 10 o'clock Chicago time,
which is 9 o'clock central standard
time, because of daylight saving
time plan use in Chicago.
_ The broadcasting from the scene
of the fight will start at 6 o'clock,
and several of the preliminaries will
be included on the evening's pro-
gram before the main bout is call-
ed.
_ If the weather is suitable, Mr.
Bice expects to use the power am-
plifier, which he has installed on
the roof of his building, but in
event the weather is bad, he will
use a loud speaker and attempt to
accommodate the crowd on the in-
side of his building.
Al Corbett, a Cleveland feather-
weight, is being ballyhooed quite
a bit for bigger and better oppo-
nents on account of a run of 12
wins in a row in the past few
weeks. Corbett included Phil Zwick
in his victories a few weeks ago.
GENE TUNNEY vs JACK DEMPSEY
Historic boxing newspapers and articles.