HISTORIC BOXING NEWSPAPERS
You will enjoy reading these historic
newspapers and articles. Some of the
greatest boxing events from the 1800's
through modern history.

THE NEW YORK HERALD
(EUROPEAN EDITION OF THE
NEW YORK HERALD TRIBUNE)
WEDNESDAY, SEPTEMBER 21, 1927
GENE TUNNEY vs JACK DEMPSEY
PREFIGHT

TUNNEY QUITS
TRAINING WITH
FAST WORKOUT

"I Am Fit," Declares Cham-
pion - Dempsey Ready for
Battle on Thursday.
---
LETTER FAILS
---
Jack's Accusation Raises ire of
Rickard, but Fails to Nettle
Gene - Seats About Sold
---
BULLETIN.
_ _v(By Special Cable to the Herald.)

_ CHICAGO, Tuesday. - The exact time
at which the Tunney-Dempsey fight will
start at Soldiers Field Thursday night
has not yet been fixed, it was annouced
here tonight. It is expected now, how-
ever, that the battle will start at 9:45
p.m., Chicago daylight saving time.
---
_ _v(By Special Cable to the Herald.)
_ CHICAGO, Tuesday. - Gene Tunney,
who will defend his world's heavy-weight
title against Jack Dempsey at Soldiers
Field Thursday night, wound up his
training last night in a blaze of glory,
stepping five fast rounds against an
assortment of sparring partners. from
now on, like Dempsey, he will only
take a mile of road work and sufficient
exercise to keep his muscles limber.
His workout impressed critics he is in
better shape than he has ever been.
_ "I am fit," the champion insisted
when he was finished. "I can honestly
say I never felt better in my life. I
am now satisfied I am in great shape."
Tonight he will simply punch a light
and heavy bag for a short time to keep
limber.
_ Dempsey, who ended his sparring
Sunday night, prepared to do his exercis-
ing with his pen. He said he was not
satisfied with Tunney's caustic reply to
his first open letter in which Jack
implied that Tunney knew of plans to
frame the fight last year in which
Dempsey lost his title to Gene. The
former champion, preparing a new
attack, said, "Does Tunney think it was
sportsmanlike when he agreed to that
deal with 'Boohoo' Hoff."
_ Billy Gibson, Tunney's manager, de-
clared that he sees "a lot under the sur-
face" of the charges made by Dempsey.
"The Dempsey crowd is cooking up
something," he said, "there are a lot of
ugly rumors floating around Chicago
about the fight and what Dempsey has
up his sleeve, but I am absolutely con-
fident that Tunney will walk out of the
ring still a champion."

_ _ _ Rickard Disturbed.

_ Tex Rickard was considerably disturbed
by the Dempsey letter. "This stuff
makes me sick," he said. "What is the
matter with Dempsey, anyway? If I
was his manager, I would not let him
_ _ _ _ _ _ _ _ _ _ _ _ _ (Continued)
IN THE GOOD OLD DAYS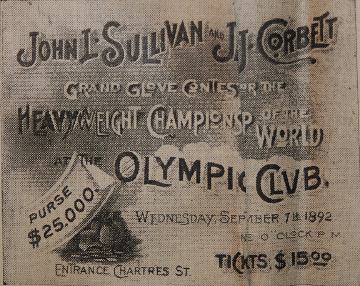 When John L. Sullivan fought Jim Corbett thirty-five years ago for the world's heavy-weight title, the customers could get a ringside seat for $15.00 and that did not mean the last 40,000 seats either. The principals were fighting for a paltry $25,000 in those days when talk of a $1,000,000 purse for the champion would have sent the speaker to a place were he could quietly cut out paper money. And neither fighter talked of boxing or of "something phoney he could not understand." This photograph was taken of the ticket "Sparrow" Robertson bought to see the famous New Orleans fight.
Tunney Impresses Critics
in Final Workout for
Chicago Bout
CHAMP FEELS
IN TOP SHAPE
FOR TITLE GO
_ _ _ (Continued from above)
get away with it. I am going to give
Flynn a call for this. It is absurb to
say the Philadelphia fight was not
square. It was as square as any fight
that ever took place. dempsey got a
ggood honest licking."
_ Philadelphia officials and members of
the Pennsylvania Athletic Commission
ridiculed Dempsey's charges casting a
cloud on the Sesqui battle. frank
Wiener said the letter was a "mere bally-
hoo without foundation of fact." Rob-
ert Young, the Commission's secretary,
said it was no secret that both Tunney
and Gibson were broke before the fight.
It was not expected that Tunney would
win, so that they thought it was a good
business proposition to pledge a share
of his earnings for $20,000 cash. He
said that both Tunney and Gibson had
borrowed so heavily from Rickard that
he refused to advance any more. The
Philadelphians declared that they were
certain, despite Rickard's show of indig-
nation, that he inspired the letter in the
hope of boosting the ticket sales.

_ _ Ticket Sales Increase.

_ The sales of tickets, in fact, after lag-
ging several days are reported to have
revived today and it is stated that all
the 44,000 "ringside" seats have been
sold. Their face value is $40. Realiza-
tion that the last row of these seats will
be 380 feet from the center of the ring
made many enthusiasts balk at paying
that amount to see a fight from that dis-
tance. The cheapest seats are those of-
fered for $5.00 and are much as 800
feet from the ring. They have not been
selling well, as many have decided it
would be better to remain at home and
listen to the description ovver the radio
broadcasting a blow by blow story of
the bout.
_ Jack Dempsey's letter published in the Press of yesterday contained nothing new to those on the inside. I have heard the same story many times since the Philadelphia fight, from persons close to Dempsey, Rickard and others. Some of the heavy-weight fights of recent years, with millions of dollars on the results, have certainly had a very shady appearance. According to the latest cable reports on the fight of tomorrow night there will be two judges and a referee. Previous fights in Illinois have been judged by one man only, the referee. The "Tiger" Flower-Mickey Walker fight in Chicago for the middleweight title, given to Walker on points, by the old-time fighter Benny Yager, caused quite a rumpus. If three officials are on the job tomorrow that incident may account for the change. The betting in Paris is quite brisk, notwithstanding the curious appearance the fight has. Harry, at his thirst emporium at 5 rue Daunou, is holding many bets, and he has considerable money left to be covered on either fighter at evens.
---
_ Just a few lines from my old pal Billy Gibson, manager of Gene Tunney, arrived yesterday. In part he writes: "I cannot understand the close odds, which are now 7/5. They should be at least 2/1. Gene was great a year ago when he defeated Dempsey, but he is much greater now. I don't think that Dempsey could have defeated Gene in his best days, which was about eight years ago when he punched the championship title out of Jess Willard."
---
_ Some of what are called ringside seats for the fight, selling at $40 a throw, are so far off from the ring that it will be necessary to use field glasses to obtain a fair view of the battle. Out of the 44,000 ringside seats, I am informed that there are only 6,000 that really should have been designated as such. And even then they extend back as far as twenty-five rows from the ring. The other so-called ringside seats extend back well over one hundred rows from the ring. There doubtless will be lots of kicks turned in after the fight.
---
_ Gus Wilson, the French-American trainer, who is chief conditioner of Jack Dempsey, cabled to a friend in Paris yesterday that Dempsey was very fit and that he expects to win by a knockout. It almost makes one dizzy hearing the many reports about the millionaire fighters.
Umpire Rules Bird
_ and Ball Both Dead
---
Richmond, Va. - A sizzling speed-
ball from "Lefty" Skillings,
Petersburg pitcher, killed a bird on
the wing in a game here with Rich-
mond. Catcher Dayton caught the
deflected ball, wide of the plate.
The batter stood unmoved. The
umpire meditated and finally ruled
the ball dead, as if it had not been
delivered.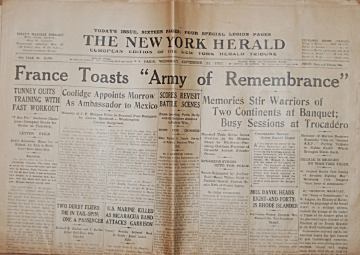 THE NEW YORK HERALD
EUROPEAN EDITION OF THE NEW YORK HERALD TRIBUNE)
WEDNESDAY, SEPTEMBER 21, 1927
GENE TUNNEY AND JACK DEMPSEY
Historic boxing newspapers and articles.